Susie Hansen – A Biography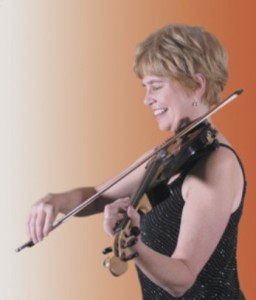 Electric violinist and vocalist Susie Hansen plays fiery Latin Jazz and Salsa, creating music that brings audiences to their feet, dancing in the aisles. Susie and her Los Angeles-based band have been acclaimed by many critics, such as Phil Elwood from the San Francisco Examiner who describes them this way: "It's a sizzling, swinging Salsa band. Hansen can solo as if her bow was afire. The whole room was jumpin' for joy."
The Chicago native is a well-established jazz musician, and has developed a unique and exciting style that features her electric violin as the lead instrument of the ensemble. She has drawn on various forms of jazz and Latin music, integrating her own interpretation of traditional Cuban Charanga, a predecessor of Salsa which often features the violin, utilizing the ever-potent fire of Afro-Cuban rhythms and incorporating the compelling harmonies of straight-ahead jazz. According to Don Heckman of the Los Angeles Times, Susie "creates a brand of music that is as physically moving as it is intellectually stimulating." Besides Susie, her all-star band features Daniel Castillo on lead vocals in Spanish, Kaspar Abbo on lead vocals in English and on guitar, the one-and-only Joe Rotondi on piano, John Belzaguy on bass, and Tony Shogren on timbales.
According to Oscar Abadia, KLVE-FM, radio K-Love in Los Angeles, "Susie Hansen is the greatest Salsa violinist in America." She has been featured as a soloist with Orquesta Los Van Van, Cuba's premier dance orchestra, both in Los Angeles and in Havana, Cuba, and with Orquesta Aragon, the world's most acclaimed Cuban Charanga ensemble.
Susie began studying classical violin at the age of six with her father, James Hansen, who was a violinist in the Chicago Symphony Orchestra for 37 years. In Boston she studied violin with Eric Rosenblith, head of the string department at New England Conservatory, and she studied jazz and bebop with legendary jazz instructor Charlie Banacos. At the same time, she pursued an education in math and computer science, ultimately earning two Masters degrees in Electrical Engineering from the Massachusetts Institute of Technology (MIT). After graduation, her musical career took precedence over science.
Moving to Chicago after graduate school, Susie formed her own jazz group in 1982 which she led for several years in Chicago. Hearing Susie play a successful concert with her band in 1986 at Taste of Chicago in Grant Park, Victo Parra, a well-known public radio DJ and the leader of the Mambo Express All-Stars, invited her to replace the violinist in his band, and she soon discovered her strong passion for Latin music. When she moved to Los Angeles in 1988, she embarked on an in-depth study of everything and anything to do with Latin music. As can be seen from the extensive critical acclaim she has received, Susie has succeeded in turning the heads of even the most skeptical.

Mark Holston wrote in JAZZIZ Magazine, "her violin speaks the language of Latin Jazz with total fluency." A long-time favorite in Los Angeles, Susie and her band play 150 live performances per year, including such events as the Playboy Jazz Festival, Fiesta Broadway, San Jose Jazz Festival, LA Salsa Festival and Newport Beach Jazz Festival. She has toured nationally with her band, and has appeared with Tito Puente, Giovani Hidalgo, Paquito d'Rivera, Orquesta Broadway, Vikki Carr, Jose Rizo's Jazz on the Latin Side All-Stars, Orquesta Aragon, El Gran Combo, Los Van Van and Sonora Ponceña.
Susie Hansen is a recording artist on Jazz Caliente Records with three releases: her current CD, Representante de la Salsa; her second CD, The Salsa Never Ends and her debut CD, Solo Flight. Susie plays the electric 5-string Zeta violin. Her music receives extensive airplay across the United States and in Europe, South America, and Asia, and a number of singles from her CDs have charted well with radio and club DJs all over the world.
Band Member Bios
Daniel Castillo

Born in Caracas, Venezuela, lead singer and percussionist Daniel Castillo joined the Susie Hansen Latin Band in 2011. He started singing at an early age by participating in and winning contests at various music festivals. He began his singing career in Caracas, where he performed with several Salsa bands, becoming well known and gaining experience.

Since moving to Los Angeles in the 1990s, he has performed with the LA Salsa All-Stars, Johnny Polanco y Conjunto Amistad, The Echo Park Project, Son Mayor, Orquesta Siva, Orquesta Macondo, Latin Fusion, Orquesta Melaza, Rudy Regalado y Orquesta Chevere, Francisco Aguabella, Orquesta La Palabra and his own Salsa ensemble, the Daniel Castillo Orchestra. Nationally and internationally, Daniel has performed with Santitos Colon, Lalo Rodriquez, Luigi Texidor, Adalberto Santiago, Cano Estremera, Oscar D'Leon, Domingo Quinones, Maelo Ruiz, Yolandita Rivera, Pedro Bull, Camilo "Azuquita" and Trina Medina.

Kaspar Abbo

Lead vocalist and guitarist Kaspar Abbo has performed with the Susie Hansen Latin Band since 2006. He has been the lead singer with the well-known Funk and World Beat band, the Bonedaddys, for many years. Born in London, England, and raised all over the world, he moved with his family to Whittier CA during his high school years. Kaspar is in great demand as a session singer in Los Angeles.

Joe Rotondi, Jr

Joe Rotondi is the pianist in the Susie Hansen Band, and was one of Susies strongest Latin influences. He was essential in her musical development in Latin Jazz and Salsa, influencing her style when they performed together in 1989 as members of the Candi Sosa Band. Joe joined Susies band in early 1996.

Joey began studying piano with his father, Joe Rotondi, Sr., and continued his musical studies at Los Angeles Community College. He has performed and recorded with many Latin Jazz greats in his musical career, including Herb Alpert, Pete Escovedo, Tolu, Vikki Carr, Linda Ronstadt, Arturo Sandoval, Doc Severinson, Alex Acuna, Justo Almario, the Estrada Brothers, Rudy Regalado and Chevere, Bongo Logic, John Pisano and Candi Sosa. Joe was featured on the recent Latin Jazz release of Herb Alpert, and the current Milestone CD of the Estrada Brothers. He was the pianist on the Paul Rodriguez's TV show, and played on the "Dirty Dancing" and "Mambo Kings" soundtracks.

John Belzaguy

Bassist John Belzaguy joined Susie's band in 2012. A Cuban American born in New York City, he has performed and/or recorded with Arturo Sandoval, Kurt Elling, Alessandro Alessandroni, the Echo Park Project, Francisco Aguabella, John Pisano, Bill Cunliff, Fred Hersch, Howard MaGee, Maria de Barros, David Askren, Shaina Noll, B.J. Ward and Cojunto Colores. Besides playing with Susie, he currently tours internationally with the Arturo Sandoval band.

Tony Shogren

Drummer Tony Shogren has played with the Susie Hansen Latin Band for 5 years. Of Peruvian heritage, he studied classical percussion and was a prodigy at age twelve, performing as a member of the Merced Symphony Orchestra. He has a master's degree in music composition from Cal-State LA, and was one of the founders of the the world-class Brazilian ensemble, Sambaguru with Kátia Moraes. Tony toured worldwide with Sergio Mendes. His compositions have won awards and been performed with the Valley Symphony Orchestra, and recorded by Oscar Hernandez and the Spanish Harlem Orchestra, Lucky Seven, Sambaguru, and his own Latin big band project, Tumbao 21. He is also a skilled and experienced recording engineer/producer, having produced records for Didi Scorzo, Lucky Seven, Eddie Resto, Munyungo Jackson, Sambaguru, Paul DeCastro, Larry Steen, Alec Milstein and Bobby Rodriguez.

David Stout

David Stout, trombonist, composer and arranger, was born in Cambridge, Massachusetts, and received his B.A. in music from Eastman School of Music, where he studied trombone with Emory Remington. A member of the Susie Hansen Band since 1992, David is the primary arranger for the band.

David's third symphonic piece for trombone and orchestra was premiered by the Los Angeles Solo Repertory Orchestra in 2000. In addition to being an arranger and composer, he has recorded jingles, soundtracks and albums with Marvin Gaye, Smokey Robinson, Jose Jose, Juan Gabriel and Linda Ronstadt. He played trombone on both of Susie's CDs, and co-produced "Solo Flight," Susie's first release. He and Susie co-authored five compositions on her CDs, and also wrote four of his own songs and arranged twelve selections on the CDs.

Tim Messina

Tenor sax player and flutist Tim Messina studied at New England Conservatory and Berklee College of Music in Boston. He began his career by playing "Grease" on Broadway for 2 years. Tim studied with jazz greats Joe Allard, Eddie Daniels and George Coleman. He has toured with Lou Rawls, Dizzy Gillespie, Prince, Bob Dylan, and recorded with Prince, U2, LeeAnn Rhimes and Stevie Wonder. Tim has worked in the movie business as well, playing on the soundtracks of "Stuart Little" 1 and 2, "Me, Myself and Irene," and numerous other soundtracks including "Elf" and "Bridgett Jones Diary." Tim has recorded the theme songs for "Vegas," "The Nanny" and "The Sopranos." He currently tours and records with the Brian Setzer Orchestra. He has played with great Latin acts such as Tito Puente, Johnny Ventura, Celia Cruz, Nelson Ned, Ismael Quintana, Vitin Aviles, Blanca Rosa Gil, Yolandita Monge, LA Salsa Society and Freddie Crespo's Costazul. Besides tenor, Tim plays flute in Susie's band, having joined the band in 2001.
Guest Artists and Alums of the Susie Hansen Latin Band
Drummer and multi-percussionist Tiki Pasillas first joined Susie's band in the 1990 and returned as drummer/timbalero from 1994 to 2003. Tiki played timbales, drums and other percussion Susie's second CD, "The Salsa Never Ends." As a teenager in Oakland, California, Tiki won a Berkelee College of Music scholarship, and later received the Latin Stylist Award at Musicians Institute in Los Angeles. He has toured extensively with the acclaimed Salsa singer Mark Anthony, and performed or recorded with many jazz and Salsa greats, including Alex Acuna, Tito Nieves, Sheila E, Kenny Kirkland, Hiroshima, Peter Erskine, Tito Puente, Celia Cruz, Horace Silver, Cachao, Giovanni Hidalgo, Juan Pablo Torres, Poncho Sanches, Nestor Torres, Paquito D'Rivera, and Kazu and Keiko Matsui. Tiki currently plays percussion as a member of the house band for "Jimmy Kimmel Live," a popular national TV show produced in Los Angeles.
Percussionist Joe DeLeon, Jr, born in New York City of Puerto Rican heritage, joined the Susie Hansen Band as congero in 1995, was a member until 2002, and played on her CD, "The Salsa Never Ends." He was introduced to music at the age of 3 by his father who was also a percussionist. He graduated from the Manhattan School of Music, where he received a B.M. in classical percussion and the George Shick Award for outstanding musicianship. Joe has performed with Dave Valentin, Tito Puente, Sheila E., Orquesta Broadway, Roland Vazquez, Francisco Aguabella, Tupac Shakur, Giovanni Hidalgo, Jose Luis "Changuito" Quintana, Raphael, Luis Conte, Rudy Regalado, Marcos Loya, the Estrada Brothers, Jose Mangual, and many others.
Vocalist George Balmaseda was the lead singer in Susie's band for many years, recording the lead vocal in Susie's widely popular single "La Salsa Nunca Se Acaba" from her second CD, "The Salsa Never Ends." Cuban born, George is known as a skilled sonero, a vocalist who sings the creative improvisations in call-and-response with the coro sung by the background singers. He has toured worldwide with many of the Latin greats, including Tito Puente, Celia Cruz, La Lupe, Oscar de Leon, Ruben Blades, Tito Nieves, Jose "El Canario" Alberto, Rey de la Paz, Ismael Quintana, Ismael Miranda, Camilo Azuquita, Tony Vega and Ray Sepulveda. His voice was featured with Tito Puente's Orchestra in an episode of The Simpsons, and he was cast as the lead Salsa singer in the movie "Along Came Polly." He is currently lead vocalist in the band Lucky Seven. George was a member of Susie's band for 16 years, from 1991 to 1993, 1994 to 1996, and 2002 to 2010.
Internationally renowned saxophonist Justo Almario performed as a guest artist on Susie's second CD, "The Salsa Never Ends," playing outstanding solos on "Alibi" and Susie's original Merengue, "Blues Con Fuego." He has performed with many jazz, pop and Latin greats, such as Mongo Santamaria, Freddie Hubbard, Charles Mingus, Chaka Khan, Linda Rondstadt, Roy Ayers, George Duke, Dave Grusin, Tito Puente, Machito, Master P and even Queen Latifah. Columbian born, Justo is recognized as Colombia 's most outstanding jazz musician of his generation. He currently is a member of Jose Rizo's "Jazz on the Latin Side All-Stars," and along with Alex Acuna leads the Latin jazz ensemble "Tolu."
Puerto Rican born singer Ruben Esteva sang with Susie's band from 1999 to 2003, and is featured as lead vocalist on three songs of her CD, "The Salsa Never Ends." Ruben began his career in Los Angeles singing with Latin Fusion, one the top Salsa bands in LA, performed with Freddie Crespo's band Costazul, and currently leads his own Salsa band.
Saxophonist and flutist Steve Marsh played in Susie's band from 1998 to 2003, and performs on her second CD, "The Salsa Never Ends," creating a notable smooth jazz tenor solo on Susie's original Bolero/Cha Cha "La Pregunta." He also has a particularly impressive ability on the Charanga flute. Steve has played with many well known international artists since moving from New Mexico to Los Angeles, including Lyle Lovett and Brian Setzer.
Versatile guitarist and lead vocalist, Rick Vittallo sang and played with Susie for a number of years. He has worked with lots of the musical greats of our time, including Frank Sinatra, Burt Bachrach, Celine Dion, Englebert Humperdinck, Connie Stevens, The Supremes, The Drifters, Stan Kenton, Duke Ellington, Art Pepper and Woody Herman. Rick is a state-of-the-art music programmer as well as composer, arranger and conductor. Beyond his musical career, he is an actor, comedian, and a Martial Artist holding a Black Belt in Kenpo Karate.
Singer and percussionist Erasmo "Eddie" Ortiz was the first lead singer of the Susie Hansen Band in 1989. He is the driving force and the leader of Son Mayor, one of the most popular Salsa dance bands Los Angeles, and has played with Yari More, Costa Azul and Rudy Regalado. Susie and her band regulary welcome Eddie to their stage to sit in on vocals and hand precussion with the band.
Honorary members, frequent subs, distinguished alumni, and guest artists with the Susie Hansen Latin Band include the following: our band's long-time technical director and soundman Steve Shoemaker, bassist Matt Spencer, saxophonist Dean Roubicek, singer Valerie Peterson, percussionist Roberto Cascante, guitarist/vocalist Craig Copeland, pianist Serge Kasimoff, drummer/timbalero Victor Barrientos, bassist Brian Wright, drummer/timbalero Aaron Serfaty, congero/bongocero Papo Rodriguez, drummer/timbalero/band leader Jimmy Branley, trumpeter Bobby Loya, bongocero Arnie Silva, trumpeter Brenda Adelante, congero Mike Vasquez, timbalero Ramon Banda, trombonist Kerry Loeschen, pianist Tom Regis, bassist Gustavo Eraso, vocalist Mike Jimenez, trombonist Danny Weinstein, flutist/vocalist Gilberto Torres, pianist John Douglas, saxophonist/flutist Pedro Eustache, pianist/guitarist/vocalist Mark Gutierrez, vocalist Candi Sosa, percussionist David Romero, vocalist Cheo Negron, saxophonist Robert Incelli, trombonist Eric "the Dominator" Jorgansen and drummer Ronnie Gutierrez.